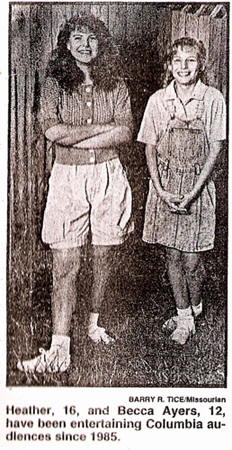 By JOANN MEHLING
Missourian staff writer

Last year, 12-year-old Becca Ayers shared the lead role in Columbia Entertainment Company's production of "Oliver." For four nights she accepted the challenge of being the little orphan boy, Oliver.

Becca's sister Heather, 16, is now in her third straight production. With an enormous bow clipped to her head and a jump rope in her hands, she plays the dizzy character Patti in "You're a Good Man Charlie Brown," now playing at the Maplewood Barn Theatre.

"She looks physically comfortable on stage and takes direction well," said Tim Budke, director of "You're a Good Man Charlie Brown." "One of the most striking things about her is her unending amount of energy which is always wonderful for a director."

From chorus to lead roles, the Ayers sisters have been entertaining Columbia audiences since 1985. Since age 4, Becca has been in at least seven productions, and Heather has been in at least nine shows since her start in second grade.
Just last April, Heather was in "Pippin" with the Columbia Entertainment Co., and in May she was Audrey in "Little Shop of Horrors" at Hickman High School.

Together, the girls were in "Camelot," "Oklahoma!" and "Brigadoon" the past three summers at Maplewood Barn.

They weren't born with this talent, though. Dance, acting, and voice lessons were all part of the preparation, that began eight years ago when they lived in Big Bend, Kan. The girls took dance classes from Karyl Morrison in 1980. With only about five children per class, the Ayers sisters were able to develop a friendship with their instructor.

As the girls and their talent grew, they started to invent their own steps to show their instructor. "We'd make up little dances and make our parents watch us," said Becca.

It is challenging to "keep the character," Becca said. "You have to be that person and not let the audience distract you."

They also learned stage presence, a skill Heather attributes to their success today. "Karyl didn't care if we messed up, as long as we smiled and didn't look at our feet," Heather said.

Eventually Morrison suggested that they audition for a production at Barton Community College. Heather was chosen to be a part of the chorus in "Annie Get Your Gun" in 1983, and both girls were in the chorus for "Fiddler on the Roof" as was their father.

Although Morrison was the one who first encouraged the girls to perform, their parents have played an enormous role in educating their children about the theater.

With acting, the girls learn about different lifestyles they may never come into contact with, said their father, Bob Ayers. He said the discipline, disappointment and patience that comes with pursuit of the craft are valuable learning experiences for the girls.

Heather said her parents are supportive yet realistic about theater. From the books their father brings them, the girls have read stories about those who audition for years without any success. Books on how to handle stage fright are also in the girls' collection.

Their parents neither encourage, nor discourage, acting as a career goal. Both parents came from families who pushed their children in certain directions, they said, and the Ayers want their children to do whatever they choose.

As a child, Bob Ayers played the drums. "People were always discouraging my interest in professional music," he said, adding he regrets not pursuing it.

Like many parents, the Ayers make sacrifices for their children. In addition to all the driving they do for their daughters, the family postponed its California vacation a few days so Heather could finish her role in "You're a Good Man Charlie Brown."

The parents have been the proudest of their children when each played a lead role. Both recall being nervous during "Oliver" and "Little Shop of Horrors."

"We were nervous for them because we knew how hard they practiced," said Mary Ayers, the girls mother.